Hi there and welcome! Its been a while since I last participated in the monthly goals linky, so this month I have decided to set some goals for myself which are reasonable enough to start with then  next month do more challenging ones.
***The rules are as follows and note I took these straight from the hosts blog page.***
The linky goes live on the first Wednesday of each month.
Follow all three hosts: My So-Called Chaos, A Peek at Karen's World, & Jenee Thompson
Write up a post recapping previous goals & setting goals for the next month. The post needs to include the Monthly Goals button!
Link-up your Monthly Goals post in the linky below! See host's page
Visit other blogs in the linky to show support!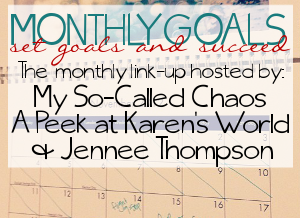 April Goals
Continue driving lessons –> ongoing
Book Munich and Zambia Holidays –> Gone and returned from Munich, yet to book my ticket to Zambia.

Partial Success

Read (or listen) to the procrastinator's guide –> doing as I post this
Do more Manicure and OOTD posts –>

Success

Continue spending more time with family and friends –>

Success

, with my family right now.
May and June –> I did not set any goals
July Goals
Read and Review 4 books
Book ticket to Zambia
Host 1 year blogaversary giveaway
Support more blogs
Continue with the "Your weekly weight-loss Plan" linky
Continue to improve the blogs
What are your goals/plans for this monthly?