Hi there and welcome! Its that time again when we need to set new monthly goals and I will confess right now I do not feel like setting anything for August I just want to chill. This attitude I am exhibiting right now I do not like hence I will force myself to come up with August Goals that will be challenging enough for my bug head.
***The rules are as follows and note I took these straight from the hosts blog page.***
The linky goes live on the first Wednesday of each month.
Follow all three hosts: My So-Called Chaos, A Peek at Karen's World, & Jenee Thompson
Write up a post recapping previous goals & setting goals for the next month. The post needs to include the Monthly Goals button!
Link-up your Monthly Goals post in the linky below! See host's page
Visit other blogs in the linky to show support!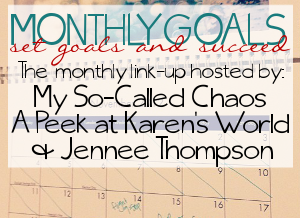 July Goals
Read and Review 4 books –> SUCCESS
Book ticket to Zambia –> Reserved, paying fully this month.
Host 1 year blogaversary giveaway –> SUCCESS, thanks for the help and love to all who participated and supported me.
Support more blogs –> SUCCESS, I felt it's important to support one another as blogging can sometimes be difficult.
Continue with the "Your weekly weight-loss Plan" linky –> Failed, started then stopped then started now put on hold but will revive soon once I get new plan.
Continue to improve the blogs –> there is always room for improvement.
August Goals
Read & Review 5 Books, I have so many books to read, review and share with you guys. Obviously they will be featured on my 2nd blog.
Be more proactive and spend time with family & friends. This month is full of birthdays, baby showers plus other events so need to be proactive bad organised.
Start eating healthier, with less than 150 days till Christmas I need room for the cakes so need to starting behaving now so to misbehave during Christmas. (Not what you were expecting huh!!)
Go to cinema at least twice this month, I want to see a couple of movies including: expendables 3 etc.
Need to get my mojo back both personally and otherwise, my body for some reason or the other can't seem to get enough rest even after a 7 hour sleep. It's so weird that a 4 hour sleep is helping me feel more energised than a 7 hour sleep.
These are my "force upon myself", what are your goals this month! Week! Year?