Hi there and welcome! Its that time again when we need to set new monthly goals and if you remember last month I was so not up for setting anything but I made myself set some and I am happy I did because most I did without any no never mind. This month is just so exciting for me and nothing is bringing me down from this high provided by The Lord on high.
***The rules are as follows and note I took these straight from the hosts blog page.***
The linky goes live on the first Wednesday of each month.
Follow all three hosts: My So-Called Chaos, A Peek at Karen's World, & Jenee Thompson
Write up a post recapping previous goals & setting goals for the next month. The post needs to include the Monthly Goals button!
Link-up your Monthly Goals post in the linky below! See host's page
Visit other blogs in the linky to show support!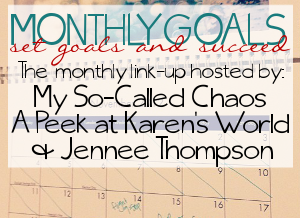 August Goals
Read & Review 5 Books

, I have so many books to read, review and share with you guys. Obviously they will be featured on my 2nd blog.

SUCCESS

Be more proactive

and spend time with family & friends. This month is full of birthdays, baby showers plus other events so need to be proactive bad organized.

SUCCESS

Start eating healthier

, with less than 150 days till Christmas I need room for the cakes so need to starting behaving now so to misbehave during Christmas. (Not what you were expecting huh!!)

SUCCESS

Go to cinema at least twice this month, I want to see a couple of movies including: expendables 3 etc. FAIL – kept canceling due to work.

Need to

get my mojo back

both personally and otherwise, my body for some reason or the other can't seem to get enough rest even after a 7 hour sleep. It's so weird that a 4 hour sleep is helping me feel more energized than a 7 hour sleep.

SUCCESS
September Goals
Go to the cinema – I will not give up on this goal just yet
Visit as many family members as possible whilst in Zambia/Malawi
Continue to eat healthy – I have improved greatly with my vegetarian foods but I am not going all vegetarian
Do all my product reviews before I go on holiday.
What are your goals this month, remember just because you have not achieved your set goals for that month is does not mean the end of the world as we all human and slip up now and again. Give yourself a part on the back if you even achieved just one.
Pssst dont forget my freebie Friday… I am giving away a £10 Amazon gift card because I love you so much.
a Rafflecopter giveaway