Hi there and welcome! Its that time again when we need to set new monthly goals and review old goals. This month I wanted to do something different in that not only will I share last month's goals but I will also share my October 2013 goals. I like to look back and see if I am growing or still in the same rant.
***The rules are as follows and note I took these straight from the hosts blog page.***
The linky goes live on the first Wednesday of each month.
Follow all three hosts: My So-Called Chaos, A Peek at Karen's World, & Jenee Thompson
Write up a post recapping previous goals & setting goals for the next month. The post needs to include the Monthly Goals button!
Link-up your Monthly Goals post in the linky below! See host's page
Visit other blogs in the linky to show support!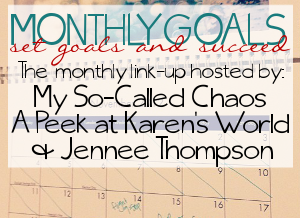 September Goals
Go to the cinema – I will not give up on this goal just yet. S

UCCESS

– went alone and watched LUCY
Visit as many family members as possible whilst in Zambia/Malawi.

SUCCESS

– though I didn't got to Malawi due to funeral I did go to Zambia and had a wonderful time.
Continue to eat healthy – I have improved greatly with my vegetarian foods but I am not going all vegetarian.

SUCCESS

– whilst in the motherland I most had good meals and less on the sweets except for the freezits, ice creams (my excuse it was 45+ degrees I needed to cool down somehow.
Do all my product reviews before I go on holiday.

Partial Success

– in the end I did what I could manage with my busy schedule.
2013 October Goals:
Schedule posts more regularly when busy at work –

This was a big success for me until 2 months ago when I lost my mojo.

Start saving for driving lessons and car.

FAIL – I mean I saved up did 20 hours worth of lessons and then I just stopped, a couple business trips here and there kinda left me drained.

Meet up with my German Friends. SUCCESS – I went and met my friend and his daughter, you can read more HERE.
Attend more Wedding Fares.

FAIL – after the first two we attened kinda lost interest and don't see it coming anytime soon.

Keep trying with citizenship money (savings). FAIL – saved up then used up for family emergencies. It's been a year and I am still singing the same tune.
Search for new US dramas to watch.

SUCCESS – Scandal and The Blacklist covered that spot.

Promote my blog more. Partial Success – this is an ongoing battle, one minute I want more for my blog(s) next I just don't feel like blogging.
Start and Finish the Great South Run.

FAIL – never trained then thought I would stupidly go and be fine. I am glad G stopped me from doing it because a girl fainted and died from doing the run (different one) without training and preparation.

Attend BBN workshop in London.

S

UCCESS – I attended my first ever blogger event which was hosted by NEXT and I loved it, see more HERE.
Live life.

SUCCESS – still doing this till this day

.
2014 October Goals:
I am setting these kinda late (its the 16th today) but better late than never.
Finish off all the reviews I need to do and didn't do last month
Join the gym here my new place – I have got to work out so I can have more room to eat junk over Christmas
Start cooking again – I cooked a full meal yesterday (Chilli beef on avocado) very proud.
Get more organised at work and home
Socialize more, this one man journey is getting old.
Go to the cinema before monthends.
What are your goals this month, remember just because you have not achieved your set goals for that month is does not mean the end of the world as we all human and slip up now and again. Give yourself a part on the back if you even achieved just one.
This slideshow requires JavaScript.