Hi there and welcome! Its that time again when we need to set new monthly goals and review old goals. This month I contemplating skipping this month's goal setting but since I have so much I want to accomplish I thought its best to set goals so I can have it as a tracker and be accountable.
***The rules are as follows and note I took these straight from the hosts blog page.***
The linky goes live on the first Wednesday of each month.
Follow all three hosts: My So-Called Chaos, A Peek at Karen's World, & Jenee Thompson
Write up a post recapping previous goals & setting goals for the next month. The post needs to include the Monthly Goals button!
Link-up your Monthly Goals post in the linky below! See host's page
Visit other blogs in the linky to show support!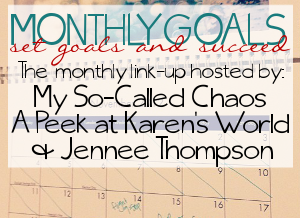 2014 October Goals:
I am setting these kinda late (its the 16th today) but better late than never.
Finish off all the reviews I need to do and didn't do last month

SUCCESS

Join the gym here my new place – I have got to work out so I can have more room to eat junk over Christmas

FAIL

– Eating healthy and walking a lot instead.
Start cooking again – I cooked a full meal yesterday (Chilli beef on avocado) very proud.

SUCCESS

– now cook every day
Get more organised at work and home  

PARTIAL

– working on it
Socialize more, this one man journey is getting old.

SUCCESS

been out on the town with friends twice this month
Go to the cinema before month ends.

FAIL

– was on holiday then moving so no time but went out to lunch/dinner with friends instead.
2014 November Goals:
Attend a blogger event
Redesign some elements of my blogs
Review all products – I have been fortunate to have been sent a lot of products but that means I need to review and most of them this month.
Read and Review 2 books – you can see my book reviews on The Myrabev Life
Buy christmas card and write up everyone I am sending presents to this year
Work on Changing and/or improving up my healthy habits.
These are my goals for this month, like I said contemplating not to set any of these but I have set to hold myself accountable and have this blog act like a planner. What are your goals for this month?