Hi there and welcome! Its that time again when we need to set new monthly goals and review old goals. This month I have set my 5 goals as part of the 12 days of Christmas challenge. As I mentioned in my Five goals post, I will only set goals to accomplish by Christmas and nothing more because honestly I do not have the time but I do not want to break my routine and feel like I need to set resolutions next year which I mentioned at the beginning of this year that I would not set and this goes for next year too. I love setting monthly goals to hold myself accountable and if I fail one month I move it along to the next or even decide whether it's worth doing or not. I refuse to set resolutions because around this time is when people start to look back at those goals and if failed feel like a failure and promise to change next year.
***The rules are as follows and note I took these straight from the hosts blog page.***
The linky goes live on the first Wednesday of each month.
Follow all three hosts: My So-Called Chaos, A Peek at Karen's World, & Jenee Thompson
Write up a post recapping previous goals & setting goals for the next month. The post needs to include the Monthly Goals button!
Link-up your Monthly Goals post in the linky below! See host's page
Visit other blogs in the linky to show support!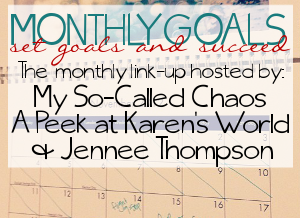 2014 November Goals:
Attend a blogger event –

SUCCESS

, I attended Nuffnagg workshop and Christmas tour in London
Redesign some elements of my blogs –

SUCCESS

, I finally managed to add my own logo to the blog so happy.
Review all products – I have been fortunate to have been sent a lot of products but that means I need to review and most of them this month.

Partial SUCCESS

– I have 4 more and that's it for the year.
Read and Review 2 books – you can see my book reviews on The Myrabev Life.

SUCCESS

, I just reviewed 'Goodnight Jungle and Emma learns to sprout'
Buy christmas card and write up everyone I am sending presents to this year.

Partial Fail/Success

– I bought but never sent anywhere except for the ones I got from Mango Salute.
Work on Changing and/or improving up my healthy habits.

SUCCESS

– I am still cooking and adding more healthy food to my diet I just need to drink water which is a big struggle for me unless flavoured.
2014 December goals
Be merry and happy
Spend time with family
Relax
That's all including my 5 christmas goals for the 12 days of christmas challenge. I wish you and your family a Merry Christmas and Happy New Year. God bless x