As we are now half way through the year, it makes sense to look over the financial goals for the year that I set at the beginning of the year. There are so many wonderful things I wish to accomplish this year and if 2020 has taught us anything its to live today like it's your last. At the beginning of the year I set some really ambitious goals from saving £15000 in my Emergency Fund to purchasing my first rental property. These are just some of the big goals that I have for 2021 but I am excited to be working on these financial goals for the year and excited to be executing them one at a time.
Setting financial goals doesn't need to be (1) hard and (2) only set at the beginning of the year, you can do that at anytime you please. I set mine in Q1 so not exactly in January, more like in February-March timeframe and I am excited to see the progress I have made so far. I set myself 16 goals in total and some are not strictly financial but are financially related. Since we are at the 6-month mark for the year, I decide to share these goals and also share the process I have made so far. I must admit that it has been frustrating seeing some of my goals move so slowly or get pushed back but I am still happy with the progress.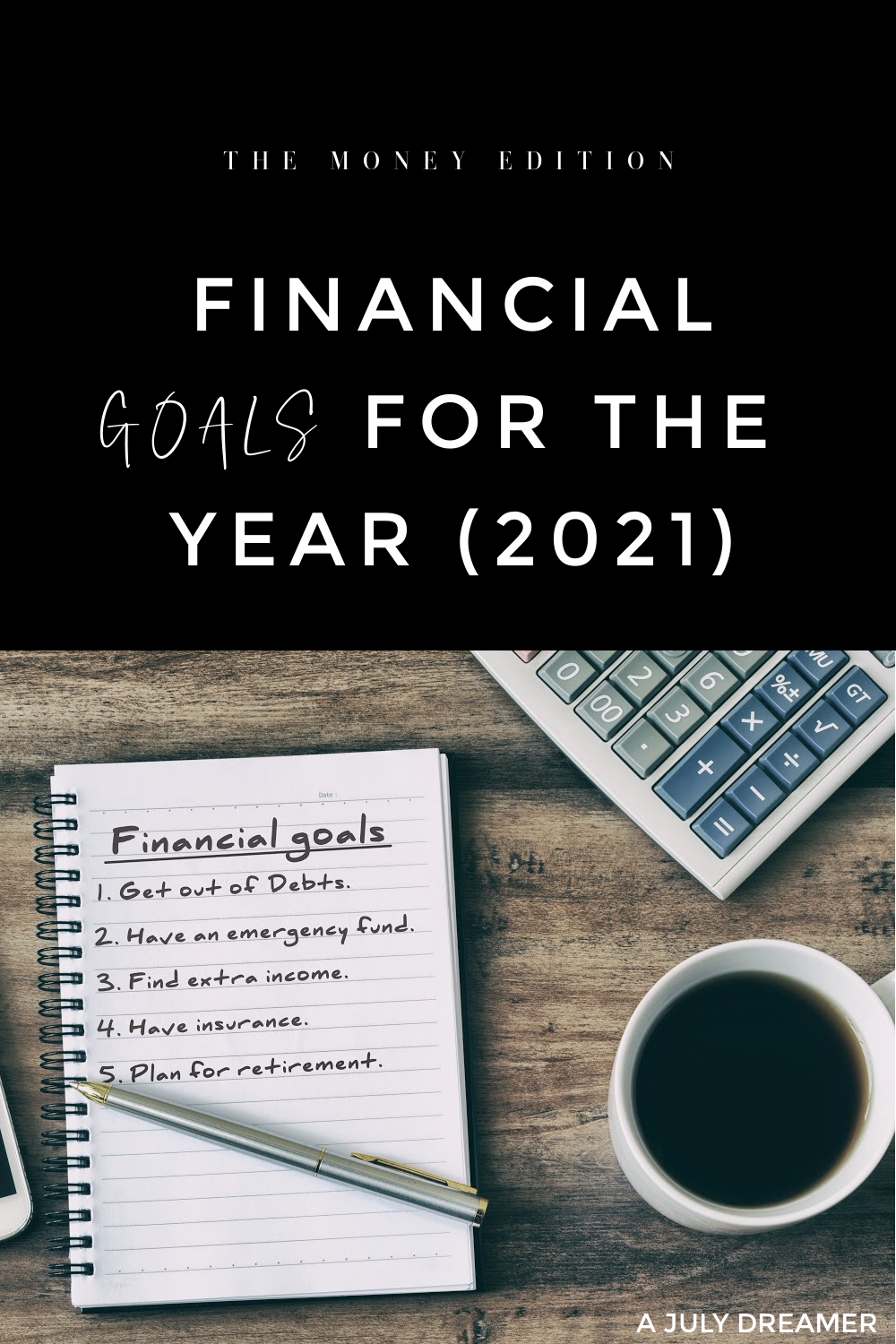 Financial Goals for the year (2021)
When it comes to my finances, I am a planner, I like knowing where my money will go and if I have big goals, how I will achieve them and I note down the process of how I where the money will come from to pay for my goals. In other areas of my life I am very spontaneous (specifically travel) and I find that to be a great balance having a little bit of both is great. When I was planning what goals I wanted to accomplish this year, I also had to think in detail about where the money to accomplish these financial goals would come from.
One thing I want to reiterate whenever you set goals whether financial or otherwise, it is so important to have mid-year or month check in to see how you are progressing. I have shared tips before in the past about how to track your goals, how to stay accountable and how to set financial goals in general. I hope the content I have linked up will help you with setting your own financial goals for the year or at least give you an idea on how to get started. Here are the 16 financial goals that I set for 2021
Increase my tithe and giving
If you watch my budget videos then you will know that I increased my tithe and giving from £50 to £400, I think it is so important to give and tithe (if you believe in it). Tithing is something I 100% believe in and do every single month and whilst I am not trying to impose my views on anyone, I think 'paying it forward' is a great way to give back to your community, your church or to things that you personally believe int.
2. Purchase a rental property
The truth is I had this goal back in Nov-2021 when I started getting serious about buying another property but I knew I needed to wait at least a few months to reach '1-year' since I became a homeowner to start thinking about purchasing another property purely because (as I experienced) there are lenders who will only lend you money if have been a homeowner for longer than a year which was a surprise but not a surprise at the same time. But, I found the property and we are 95% of there way there, just a few things for the seller to sort out and we shall be exchanging contracts.
3. Fund Emergency Fund with £15,000 before year end
The actual amount is £15,648 is how much I want to fund my emergency fund with and if things go well I am even thinking of pushing it to £20,000 so that £15k can be for my main home and £5k for my rental property. For those who watch my Transfer Tuesday videos, you will know that I just reached my £5,000 mark and by end of June I am hoping to reach £6,000 and so far it looks like I shall be able to make that goal. I am excited about this and all the progress that I have made so far. I had a emergency last month which meant I had to dip into these savings so I am happy to be back on track by end of the month.
4. Increase investment contribution to 10% of income
This is one goal I truly want to hit before end of this year, currently I am only contributing about £500 a month and whilst that is not bad, I would like to at least start investing 10% of my annual income. Right now in my portfolio I have about £15,000 which is something I am truly proud of and wish for this to continue growing until such a time as I choose to retire early.
5 -8 Goals already accomplished
Pay off my car before year end – I paid off my car in Mar-2021 and now I don't have any monthly car repayment, best feeling ever.
Pay off my peloton bike before year end – I pad this off in Mar-2021 as well, let's just say Mar was an expensive month for me.
Renovate garden – this is something I achieved last month and I am absolutely in love with my garden and can not wait to share that on here.
Become consumer debt free – because I paid off my car and bike, I am officially consumer debt and I shared how I am now splurging the extra money.
9. Pay extra towards my mortgage
As part of my Transfer Tuesday videos, I share how much I am contributing each week to my mortgage and as much as I want to consider this goal accomplished, it is a work in progress. No one knows if next month I will be able to contribute extra £200 towards my mortgage that so far that is exactly what I am doing and hope to continue
10. Pay off £20k of the £220k Mortgage
This goal is tied to the goal above, at the moment I am £217k left on my mortgage so there is still £17k to be paid and whilst I don't think I will hit that goal by end of the year, my intention is to achieve this before my re-mortgage in exactly a years' time from now. I want when I remortgage to have less owed towards my mortgage as my plan is to pay off my mortgage in the next 10 years.
11. Save £1200 in holiday fund
I am happy to report that by next month I will be accomplishing this goal and I have actually increased it to £2400 by February next year. I have some luxury holidays planned for next year and I want to make sure I have the spending money available to splurge as I see fit and I am working hard to save for that. The money I am saving this year will not be used on any of my holidays this year, those holidays are paid for and have their own budget.
12-16. Money related goals
Set-up sinking funds – this is done and I have even set up more sinking funds to cover my annual bills which is something I have never done before but excited to start doing.
Start a YouTube channel and speaking about saving, budgeting and investing – this is something that I have done and I am covering my topics of interest which are budgeting, saving and investing.
Start selling digital products on Etsy – this is something I have done as well, I am selling budget trackers and each month I sell 1-2 which is incredible and can not wait to share more budget trackers in my shop.
Invest 60% of rental income – obviously this can only happen once the rental property is in my name and I can not wait for this to happen.
Enjoy 2 vacations this year longer than a week – I have not done this year but I have Dubai and Maldives booked so I am excited about that and I still have 14 more days to use up for I will be booking 1-2 more vacations abroad (if we are allowed).
And there you have it, 16 financial goals for the year and I can not wait to smash as many as I possible am able to. Do you have any financial goals set for this year?